Most business owners fail for one of 2 reasons: 1) they ignore or don't capitalize on what they do well and 2) they don't seek help from credible sources.
These resources are for the do-it-yourselfer. We pride ourselves on resources that go beyond information overload and put you into action.
The 3 Stages of Marketing (Audio)
This FREE 30 minute, easy to implement CD is an introduction to our system on how to identify the right marketing and the best growth path for your business. You'll walk away with the key questions you should ask and things to look for to jumpstart your marketing or fast-track what you've already started.
Register here to get your FREE audio
Pitch-to-Win™ System
VentureWalk doesn't just assist in developing pitches and presentation coaching, we created the system! (And the workbook.)  We use our proprietary system to help business owners go from Elevator Pitch to Sales Pitch to Funding Pitch via our Pitch-to-Win Course™, Pitch-to-Win Workbook™ and Pitch Persona™ Assessment (Quiz)
Pitch-to-Win™ Workbook – Sales Edition
Our Pitch-to-Win Workbook™ is a 32 page, color copy workbook shipped directly to you that consists of assignments, checklists, lessons and templates to guide your sales conversations, from start to finish. In this workbook, you will learn:
What you must do before you ask for the sale
How to use your pitch persona to your advantage
How to override a no or hesitation
The top questions to ask in every sales conversation
Order your copy to be shipped to you today.

NEW Upgraded Video Interactive Course Coming Soon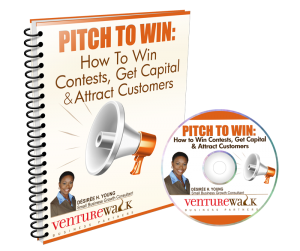 If you're looking to position yourself to win a pitch contest, get capital for your business or attract clients, then this product is for you. It's made up of video instruction plus exercises, checklists, samples and frequently asked questions. You'll walk away with a renewed sense of how to communicate who you are, your concept and why it matters based on VentureWalk's winning pitch formula. You'll also get instruction on how to use this pitch for networking, sales, to prepare a business plan for funding and competing in pitch contests.
You will learn about:
3 Types of Pitches and How They're Different
Compiling Your Intro & Winning Samples
Solidifying Your Solution
Articulating The Ask
Timing Each Part So That You Use Your Time Wisely
And discover how to:
Dissect a Winning Pitch
Save the Day with Q&A (Question & Answer)
Get Ready for Pitch Day
Use Props to Your Advantage
Identify the 2 Most Important Numbers in Your Pitch
And much more…
Call now for group and individual pricing (504-298-WALK [9255])
Testimonials that Sell (Audio + E-course)
Did you know that a customer testimonial or endorsement can get you 2.5x's more sales? What's more, quality testimonials are among the most effective ways to build credibility in any marketing situation, especially online. Through this audio e-course you'll learn:
The 5 key elements that a quality testimonial or endorsement must have and why this type of testimonial must be a part of your marketing strategy right now
The right way and the wrong way to add testimonials to your website, brochures, and other materials to get sales
The 2 top places most business owners fail to list their testimonials that could cost them thousands of dollars
How to avoid doing this one action that will actually stop you from ever getting testimonials, even from your raving fans
How to know and identify the best time to collect testimonials, if you've ever tried and failed, bad timing may have been the culprit
How to collect information from customers in a simple, easy way without feeling that you're bothering your clients or making them feel uncomfortable, included is a fill-in-the-blank template I've used for my clients that will make your customers spill the beans of how great you are and in turn convince every one else as well.
How to use social media, especially LinkedIn, to showcase what happy customers say about you and your brand